Putting your google maps location at the post of WordPress was not that easy to get. Personally, I often failed and missed to copy and paste my location into my post or put into a widget. Now I'd like to introduce to you a new plugin from WordPress called travel-gmap3.
How to install this plugin is easy such as :
Go to plugin menu and add new.
Search the plugin with this keyword : travel-gmap3
install and activate. It's done …
It will be show in your left menu of the WordPress Dashboard just like this :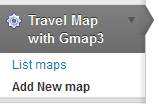 Major features include:
Manage a list of map (add, edit, delete a Google map in WordPress)
Add a map on a widget (and create several widget map) on selecting a map and configure width and height
Add a map on a post with this syntax [travelGmap3 id="1″ width="250″ height="350″]
travel-gmap3 use JQuery 1.6.1 and the JQuery plugin Gmap3.  It is very useful if our blog contain many location that we've been visit. It's more like journey or traveling blogs.
Here it is some screenshot that I've made to visualize the plugin :