Google Fonts makes our web / blog look prettier. There are lots of fonts that provide and we could choose and put it in our web. Here's new plugin that manage Google Fonts that will present in our blog. The plugin name is Fontific and you can download here.
This plugin created by Andrei at kringapps.com. If you like to change your font frequently, this plugin is useful. Of course, you do this make your reader comfortable with your reader.
How To Install Fontific WordPress Plugin
Go to your WordPress Dashboard
Select Manu Plugin > Add New Plugin and began Search Fontific
Install and you're done.
This is an easy plugin to use, you can select Google Fonts at the drop down and directly sample text will change like what your choose. Besides, you can control size and color of your fonts.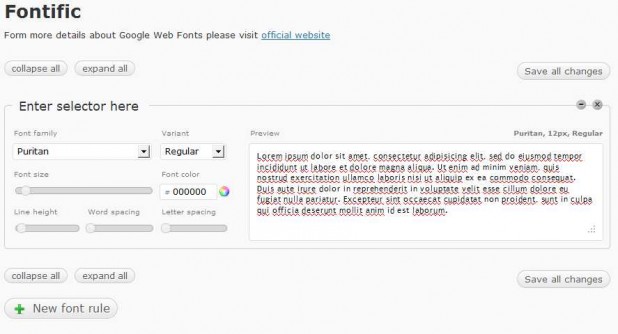 But to implement Fontific, you have to open themes editor and edit "font-family" at style.css. For example at the picture above, you should place this code at your Stylesheet (style.css).
font-family:Â  "Puritan", arial, serif;
Find "font-family" and replace with that code.