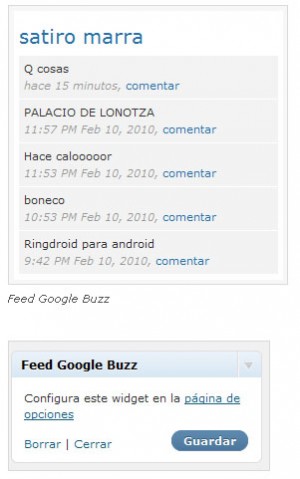 The last few weeks, we may often hear the Buzz widget services from Google, which we know with Google buzz. What is the function of these widgets for us, surely you must already know. As we know, not only issuing service yahoo buzz, Google finally released the new product, and it received a very unusual from the netter in the world. This new service according to some sources would rival the popularity of social networking sites are very popular today, namely Facebook and Twitter. Google Buzz allows users to update their status, share web links or photos with colleagues directly via e-mail service Google, which is Gmail. This feature is also compatible for Android based mobile devices. In fact there will be a special application Buzz for the Symbian operating system and Windows Mobile.
If we see, Google's technology is similar to buzz features found on some of the applications on Facebook or Twitter. Google of course hopes that more and more users using Gmail and attract users Facebook and Twitter. According to Google's Product Manager, Todd Jackson, Google Buzz will be enjoyed by all Gmail users. Currently, Gmail is the e-mail service popular world number three after Windows Live Hotmail and Yahoo Mail.
Many features of Google Buzz tempting potential Internet users. For example, published status messages are automatically indexed and available in real-time search results of Google. Content can be shared easily in a variety of Google's online products such as Picasa and YouTube. Third-party content such as Twitter can also be divided even though the user can not publish a message on Twitter. But unfortunately, Buzz could not display the messages coming from Facebook. However, these features will certainly be released along with the increasing number of users who take advantage of these features. We'll wait. For now Google has tried on several social networking services, such as the networking site Orkut. However, Orkut does not achieve success when compared to Facebook.