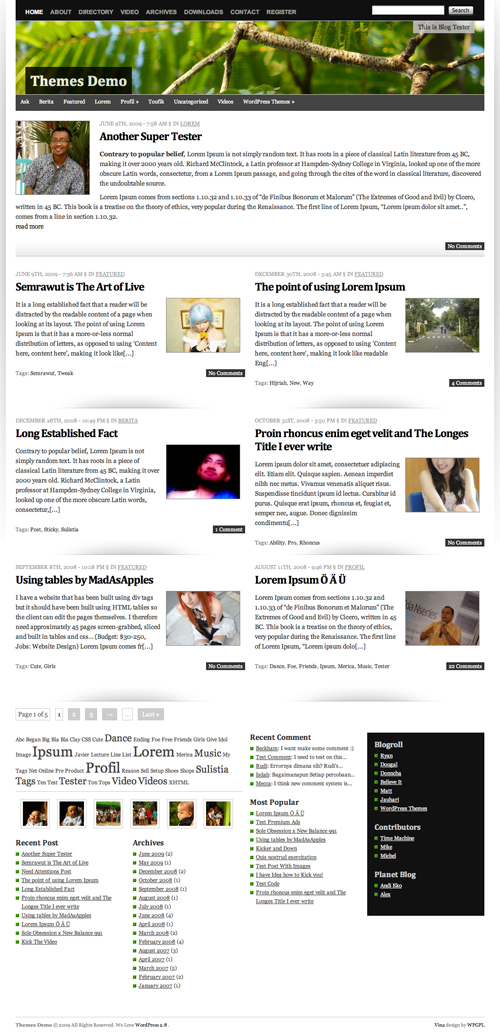 Vina WordPress Theme is extra ordinary layout wordpress theme. The behind story, why I gave the name of this theme Vina is, Vina name taken from my latest dream car Grand Livina, that why I want to make something easy to remember and useful for some one else. That why I create Vina wordpress theme.
On Vina, it try to use 1 line CSS Framework, this is powerful and simple CSS Framework all of the time, thanks for sharing this Framework 😉

This theme built in many nicely featured such as
[adsense]
Auto Grabbed and Resized Image on the fly
Nicely 2 Columns content with latest featured post
A lot of widget
Page Comment
Grid Based layout
Threaded Comment
Work Perfect on WordPress 2.7 and WordPress 2.8
Extra Ordinary layout
Magazine Style
Nicely Typography
Header Effect with jQuery
Image Header
FlickrRSS Plugin
and many many more
Download Vina
You can download Vina on this server or on WordPress Theme extend
Localization
Vina in Indonesia version by Ivan Lanin
[download id="15″]
Vina Demo
You can check Vina WordPress Theme demo
If you enjoy and like Vina WordPress Theme, you can help me spread this theme.
Change Logs
1.0 : First Public Released
1.1 : Fix Minor Error on the Header
1.2 : Fix Minor Problem
1.3 : Fix Auto Grabbed image and Hidden No Image when no image uploaded and Search page and add RSS Icon
How To and FAQ / Vina instructions
Many blogger ask the some question, and I tried to explain more clearly as I can do,
No Image Problem?
Vina is built in Auto Grabbed image, this code is searching image files on the content and display on the front page with TimThumb. But if you want using custom field, it's easy just put you image url on custom field "thumbnail" (available on version 1.2 and newer) and the image will be used for image post in the front page, and if the post without any image, the auto grabbed image will be switch off 😉
Change Custom Image Header
To change default image header, go to Apperance > Custom Header and upload your own image.

Future Released
Theme Options (hola)
Tweak Single Post
Have suggestion? (leave some feedback on this post)