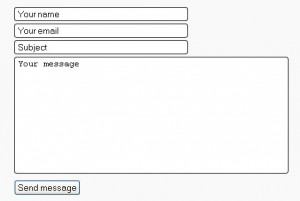 We may often find some blogs that comes with contact form. Where the contact forms itself aims to make it offline communication between visitors a blog with the blog administrator. The purpose built contact form is to make it easy for others to make two-way communication, if at that time an administrator is not online, so the message that comes into the administrator control panel can be read at any time.
As with most functions of a plugin, where the contact form plugin that you can install quite easily, especially for you who are familiar with WordPress platform. For the time being in most applications with the plugin already supports the CSS system, so the contact form which you can install directly integrated with WordPress latest series, which this program in the prediction is still compatible with a series of WordPress in the future to come.
As for some of the elements contained in this plugin, as in most frequent contact form you meet, like for example contact form to make comments like that exist in every blog, whether it is based on Blogger or WordPress. But, what makes this contact form from the others is on the menu, where the menu is like a message that you send in the form of services which will go into your email inbox. So the message you send will not appear on the comment box, but will go into the inbox owner of the blog.
Usually such applications are commonly used to accommodate some questions that may be required by blog visitors, or more often we are familiar with the term question and answer forum, among the visitors with a Adminsitrator. In short, the function of the contact form is to establish two-way communication, so that the function of a blog is not only limited disclosure of information, but also as a medium for exchanging information that will be useful to the community's own blog.