CAPTCHA is very useful when we fight against SPAM at our blogs. Because we can't escape from people wants to make a backlink using bad tricks and I think it's not a wise thing to do. As all we know, SPAM is very annoying and we need more effort to maintain our blog against those spam attack just like previous article.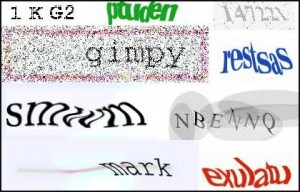 Now I'd like to introduce you a unique Really Simple CAPTCHA plugin created by takayukister. He was a creator of contact form 7 which is many people already know and use these plugin. This Really Simple CAPTCHA was created for Contact Form 7 plugin suppose this CF7 won't get SPAM attack from irresponsible persons. But Takayukister separate this plugin become an independent plugin and hope this plugin useful for others.
This plugin has his own method to create an image that contain words or some letters suppose we will type it when we'd like to comment some articles in there. So, let see how to use this plugin correctly especially we all do as a WordPress designer.  I think this is not simple thing to do but with simple documentation like already explain in here you will be understand what it means.
PS : original picture from here.