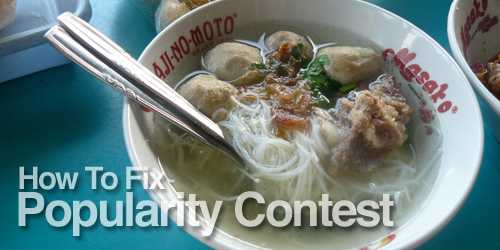 Popularity Contest is wonderful plugins developed by Alex King. This is my favorite plugins so far. Favorite to add little stats for my popular content on my current blog. The problem is, this plugins can't be activated in WordPress 2.5 – 2.7. Some user give suggestion to execute this plugin manually. [adsense]
The problem, there are some newbie that can't do this. So, I began find the solutions. After we looking around for a while, I was found the solutins. The solutions to fix popularity contest plugins is download the updated version for this plugins. You can download this updated version on this blog.
[download id="7″]
Have a nice day and I hope you keep in love with Popularity Contest.