If you are professional user and need Portfolio Theme, You should use EdoFolio, You can enjoy this GPL Licensed WordPress Themes. After you purchased it, you can Download EdoFolio for Free. Why EdoFolio? This is what you'll got on this Theme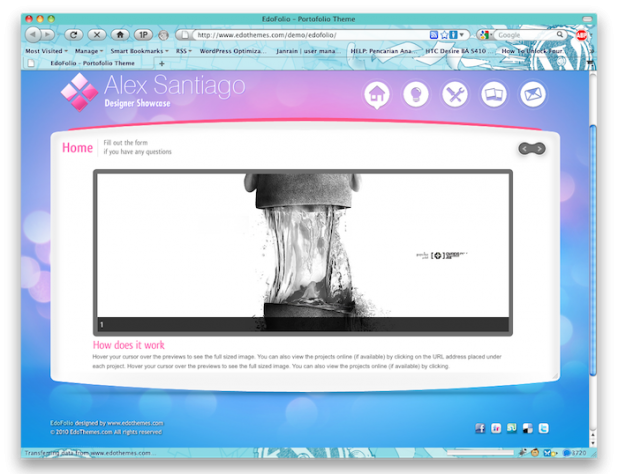 EdoFolio Screenshoot
EdoFolio Featured List
WordPress 3.0 Compatible
Our premium themes works great with and only wordress 3.0
Color Scheme
Nice color scheme available to change your blog colours !
Home Slider
Very nice home slider for the most important things that every blogger has to offer
Contact Form
Ajax contact form included !
Easy Customizations
Unique Effect and Unique Menu (You can place your own icon for each page)
LightBox Preview
Pre built Lighbox preview
Video Support
Support video for portfolio items. You can easily add your videos to the portfolio.
Custom Admin System
Custom admin system for portfolio
Logo Upload
Every theme come with Logo Upload feature to be more easy to manage the theme design !
Google Analytics
Google Analytics Integration
I think for Professional user need this Porfolio Theme and Download EdoFolio Theme is the right one. There are Two version Licensed, EdoFolio Single Licensed or EdoFolio Developer Licensed. Choose which the best one for you