Make your admin page or dashboard as you like. With Adminimize Plugin for WordPress you dan set the admin theme every user. To do this change, that easy way just go to user settings currently, you can use the theme together with the color settings for the Fresh and Classic themes. Or you may added more colors easily.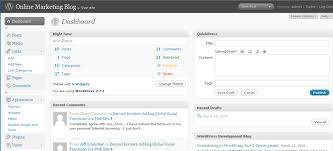 Adminimize visually compresses the administratrive header so that more admin page content can be initially seen. Also moves the 'Dashboard' onto the main administrative menu because having it sit in the tip-top black bar was ticking me off and many other changes in the edit-area. With adminimize plugin you may hide unnecessary items from the WordPress administration menu, submenu and even the Dashboard with forwarding to the Manage-page. And also you can hide post meta controls on the Write page and other areas in the admin-area and Write-page, so as to simplify the editing interface.
Adminimize plugin is compatible with WordPress 2.5 or later. Configure all metaboxes and other areas in the write-area. The new theme move the Tags- and Categorys-box to the sidebar, switch off optional metaboxes and other areas in the write-area. Many options for menu, submenu and all areas, metaboxes in the write-area, separated for all roles in WordPress.