Do you provide your blog with an article with .pdf format? If your blog is a blog with contain an article with pdf format you can install Print Friendly and PDF Button Plugin on your site. Because with this plugin, your visitor may print it easily and also the Print Friendly & PDF button saves paper and ink when printing or creating a PDF. It's fast, easy, and looks great when printed. Add the button now, and your users will see your blog is different then other blog.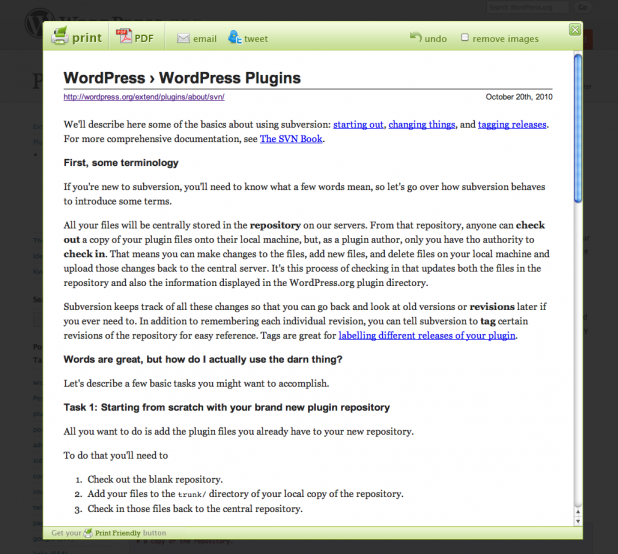 The Print Friendly & PDF button automatically creates printer friendly and PDF versions of your pages without the hassle of having to create a print CSS file. To install the plugin, no need coding skill, hacking or programming ability. It's so simple to install the Print Friendly & PDF plugin, only upload the plugin and then you only need to activate it, and choose settings for full customization. It also gives your user the ability to remove images and paragraphs of text, so they really only have to print exactly what they want.
Here are Features of the plugins :
Get a Printer Friendly and PDF button for your users.
Fully Customizable! Choose your favorite print and PDF button, use a text link, or use your own graphic.
Get precision placement with easy to change margins, alignment, and pages for your Print and PDF button.
On-Page-Lightbox. Have you noticed that other printer friendly buttons open new windows, or tabs? Not with Print Friendly & PDF button. It opens in a Lightbox so you your users stay on the page, and your wp website.
Professional looking print and PDF buttons and user experience.
More repeats and new users. Your brand/URL are printed on the page or saved in the PDF so users remember your site and new users can find you.
Try it, and show them your site is different than other. Download Printer Friendly and PDF button