I think you should try this plugin to make a beautiful library on every posting. CataBlog allows you to catalog pretty much anything you would want and share it through your blog in a simple but elegant gallery. Upload images, give them titles, links, descriptions and then save them into your catalog. You can use categories to organize and filter your catalog items into multiple different catalogs, so you can view your catalog easily. Show off your photos in high resolution with the LightBox effect, perfect for simple galleries. Easy, intuitive and smart design makes it trivial to keep track of all your different catalogs and create amazing e-stores, galleries, lists and more.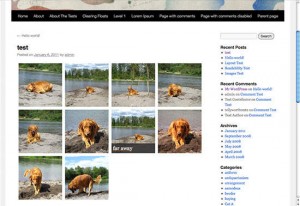 To know more about the plugin, here highlighted features of Catablog :
Automatic pagination with a ShortCode limit parameter.
Set separate height and width values for catalog thumbnails.
Generate individual and category pages for your entire catalog.
Filter by multiple categories with one ShortCode.
Localized for Spanish, Swedish and German.
Sort your catalog by order, title, date or randomly.
Add multiple images to a catalog item.
Control exactly how your catalog HTML code is rendered.
Import and Export your catalog in XML and CSV formats.
Compatible with WordPress MultiSite and Network Activation.
Upload images with FTP and automatically import new files into the catalog.
The Options Page is well organized and supports many configurable settings.
Easy management of your catalog with superiorly designed admin controls.
Catablog is a free plugin. download Catablog Here.